TDR 250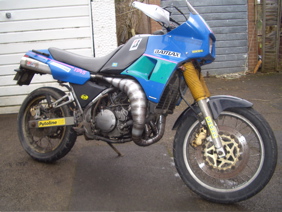 My TDR 250 YPVS
It started off as a piece of absolute rubbish. The engine's wasn't right. The brakes didn't work. It had been crashed. The plastics were missing. The front light was from a DT and was as bright as a fag lighter....
and I haven't laughed so hard in ages, what a top bike...
I've done a fair bit to her now, albeit not much cosmetically. She's pictured above with DEP pipes, a set of original plastics (mostly held together with stickers) and some one off Nikkon exhausts. I stumbled over the Nikkon's after scouring the web for aftermarket pipes. No one seems to make them any more but the Nikkon chaps had a set that they hadn't finished. They had stored them for a couple of years and let me have them for £150 instead of the £800 that they would have cost. Bargain! They warned me that they weren't finished and might not fit but I found that this problem was nothing that a lump hammer couldn't sort out! The pipes have absolutely transformed the bikes power, I've got an extra 1.5k rpm and don't even know where to start when it comes to the wheelies...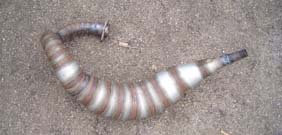 She still looks a bit ropey so I'll strip and sort her over the summer. Might even stretch to some TZR wheels, I've seen them fitted to a TDR 250 and think they look great.
--------------------------------------------------
2005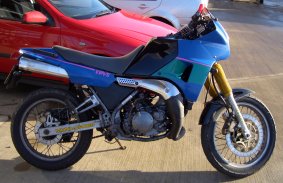 The engine is now sorted, a lawns worth of grass in the carbs was never going to help...
Dep pipes have been fitted along with a set of original Yam plastics. Next up, gold anodised wheels.
--------------------------------------------------
2004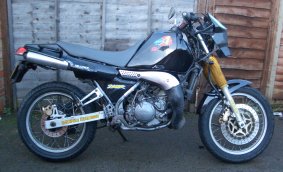 Dep pipes are on their way (god bless ebay!) Just need to find a set of plastics now.
French TDR250 workshop manual, the pictures should be sufficient...